THIS IS BALAIANA
The Eco centre is nestled in one of the most beautiful natural landscapes in Europe designed to provide all the wellbeing and space you need for a peaceful retreat.This little paradise was designed by Elke Bayer, Certified Anusara Yoga Teacher, who knows exactly the needs of her guests who are looking for the perfect setting for yoga, meditation and self-awareness
The tranquility and unspoiled nature enhance the quality of the daily yoga practice. Did you know that Sardinia is one of the 5 "Blue Zones" in the world where people not only live longer but better? The air and water quality is of the highest and supports the cleansing and healing processes. In harmony with the nature and the people of the island is for us a driving factor in the implementation of our eco-claim. We use seasonal, organic food from nearby farmers, have sophisticated water treatment systems, and used natural materials to build the structure.
The resort is located close to the picturesque village of Luogosanto, a "sacred" and authentic place where time passes slowly, and a welcoming pilgrimage destination that owes its name to a devotion that characterises its community and to 22 sanctuaries spread out close by in the area. Luogosanto is the cultural centre for Gallura, in north-eastern Sardinia, drenched in history, religion and culture, surrounded by breathtaking landscapes. Away from the hustle and bustle of tourism you will feel the very special energy of the land during your stay!
Between activities one can regenerate, contemplate or study in calm and peaceful spaces that the stunning nature created for you or relaxe by the turquoise pool. Be touched by the warm sunlight and amazed by the endless stars of the nightsky.
Balaiana offers a rich program of Retreats, Teacher Trainings and Workshops, which include Yoga and Meditation, Coaching and Massage trainings.
The place provides a healthy, positive environment for exchange with like minded people, communication and group activities.
We offer everyone a warmhearted stay where they can experience the beauty of life in exchange with like-minded people. We support you with our full commitment to spend a transforming time with us. Freedom and openness, harmony with nature and friendliness, happiness and love are our values ​​that we want to share with you.
Elke & the Balaiana Team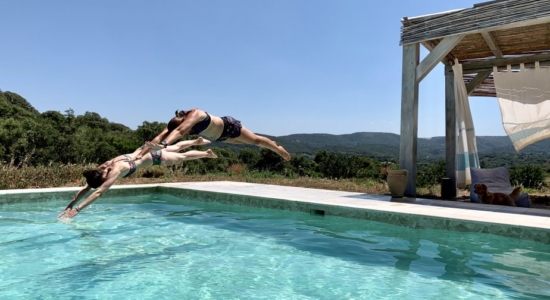 MEET THE TEAM
Elke

Certified Anusara® Teacher & Mental and spiritual Coach & Founding Partner and Director of Balaiana Eco Retreat

Elke is Founder of Balaiana Eco Retreats Sardinia and a certified Anusara® Yoga Teacher. She is also a certified Spiritual & Mental Coach.
At Balaiana she teaches Retreats, Teacher Trainings, Intensive Seminars for personal Development. You could also book personal Sessions with her:Private Yoga, Coaching, Readings and Bodywork.
After having almost 10 years a Yogastudio in Düsseldorf (Shivasloft) she made her dream come true: A place in the mystical of nature of Sardinia, where people can reconnect to their hearts. Elke invites you to discover your unique way to happiness and freedom.

Flora

Zen Master

She's the living proof that happiness is an inside job

Valentina

Kitchen Queen

Together with Pierre Valentina from Rome is the heart of the kitchen! Her love for the italian kitchen follows the Nature's rules with creative recipes and a friendly approach. Her cuisine preserves and exalts foods' aromas and flavours merged also with regional gourmet recipes.

Pierre

Passionate Chef

Pierre, half sardinian,half german has always new ideas for delicious dishes. His fusion style cooking makes your belly smile :-) When he is not visioning the menu of the day, you might see him also dancing in the kitchen!

Ivo

Guest Services, Maintenance

Ivo takes care that our guests can enjoy the beauty of the Balaiana surrounding, takes great care of our gardens as well as organizing the property, restaurant and any other odd job we need a handy guy for.

Deborah

Housekeeping

Deborah manages the housekeeping at Balaiana. She is a real local Sardinian and knows the area like nobody else. You will see her busy around the property keeping everything beautiful and clean. When she is not working at Balaiana she is creating wonderful fashion for women- a real multilevel talent!
Martin Svitek
Founding Partner
Not participating in Balaiana Eco Retreat anymore.
Founded together with Elke Svitek Balaiana in 2017. Now living in Munich.