OUR VISION AND MISSION
We want to create and be an nurishing and powerful place where our guests, our familiy and our friends respect each other and truly support each other's growth, creativity and highest potential from the bottom of their and our heart. We offer everyone the choice to experience life´s beauty as well as ours and yours oneness, humanity in action and a warmth stay, on all levels, both physically and spiritually. We give you our mindfull support with wholehearted dedication in our carefully sustainable treated environment. Freedom and openness, integrity and kindness, happiness and love should be our quides in our connection.
Elke & the Balaiana Team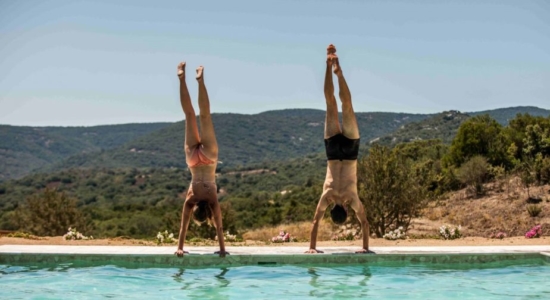 MEET THE TEAM
Pierre

Passionate Chef

Pierre, half sardinian,half german has always new ideas for delicious dishes. His fusion style cooking makes your belly smile :-) When he is not visioning the menu of the day, you might see him also dancing in the kitchen!

Clara

Volunteer & Yogateacher

Clara is a passionate Yogateacher, Traveller and examined Dietitian.
At Balaiana she offers also consultations in nutrition-related problems. (Digestion, intolerances, aversions, nervous eating…)

Iris

Orga, Reception & Thai Massage

Iris always welcomes you with an open heart and cares about you at Balaiana at the reception. Ask her for her recommendations about the best beaches or treat yourself with her wonderful Thaimassages. You will feel just like heaven afterwords:-)

Mareike

Yogateacher & Volonteer

Mareike is a passionate yogateacher and is always open make new experiences while traveling.
Her classes are always spontaneous and deeply honoring of her students. She is sensitive and sweet with a light energy.

Valentina

Kitchen Queen

Together with Pierre Valentina from Rome is the heart of the kitchen! Her love for the italian kitchen follows the Nature's rules with creative recipes and a friendly approach. Her cuisine preserves and exalts foods' aromas and flavours merged also with regional gourmet recipes.

Flora

Zen Master

She's the living proof that happiness is an inside job

Elke Svitek

Certified Anusara® Teacher & Mental and spiritual Coach & Founding Partner and Director of Balaiana Eco Retreat

Elke is Founder of Balaiana Eco Retreats Sardinia and a certified Anusara® Yoga Teacher. She is also a certified Spiritual & Mental Coach.
At Balaiana she teaches Retreats, Teacher Trainings, Intensive Seminars for personal Development. You could also book personal Sessions with her:Private Yoga, Coaching, Readings and Bodywork.
After having almost 10 years a Yogastudio in Düsseldorf (Shivasloft) she made her dream come true: A place in the mystical of nature of Sardinia, where people can reconnect to their hearts. Elke invites you to discover your unique way to happiness and freedom.
Martin Svitek
Founding Partner
Not participating in Balaiana Eco Retreat anymore.
Founded together with Elke Svitek Balaiana in 2017. Now living in Munich.