Date/Time
Date(s) - 05/10/2019 - 12/10/2019
All Day
Location
BALAIANA | Eco Retreat Sardinia
Categories
Imagine to flow over the water, smell the breeze of the ocean, enjoy the pure nature of Sardinia and treat your soul with Yoga and delicious food.
Have you ever wanted to learn windsurfing or want to improve?
Combining it with Yoga and meditation in the morning for the kick start into an amazing day.
Come join us for a week windsurfing & yoga retreat in the stunning north of Sardinia where we ensure you will return recharged and full of new energy.
At Balaiana Eco Retreat your days will filled with joy and the taste of nature and like-minded people to share with. Meditate and practice Yoga to start the day, enjoy our delicious cuisine, discover the nature Sardinia has to offer, unveil your true powers by learning windsurfing with the professional team of the MB-Pro Center in famous Porto Pollo, empower yourself and lead a life of fulfillment.
More than 250 brandnew RRD windsurf & kite boards with Neil Pryde Riggs in all sizes are at your disposal and SUP boards in all sizes and sea kayaks for the excursions (as well as free beach chairs in the off-season!) Are provided to us.
Our golden beach with the stunning turquoise seawater offers plenty of space for our professional training from beginner to expert.
The center is fully equipped with Wi-Fi. A beach bar with various possibilities for a lunch snack is located right on the center.
SPACES ARE LIMITED SO HURRY UP AND BOOK YOUR SPOT!!!
This is Balaiana
From the very moment of your arrival you will feel embraced with the beauty of nature, the magical landscape of the Gallura and it´s sunlight.
Our aim is to provide you with perfect hospitality, freeing your mind from any kind of worry. Balaiana Eco Retreat Center is simply ideal for guests who want to visit Sardinia to recharge and unwind.Awaken the spring energy to feel alive, restore and nourish yourself in this relaxed Yogaweek.
We offer you daily yoga and mediation classes in the morning and there is time to do a Windsurf-Course with our partner at the beach or to explore the beautiful north of Sardinia in the afternoon.
Our healthy vegetarian Wellness-Buffet treasures a full range of foods for every taste and special need: a vegan, gluten-free buffet with sugar-free products provides you with a wide range of fresh meals, mostly from organic farmers of the area.
Take your time at Balaiana for your Well-Beeing, to treat yourself with a wonderful Massage at our little Spa, meet new people and share a good time together.
This is the Retreat schedule for your 8 days Stay
Dein Ablaufplan für deinen 8 tägigen Aufenthalt:
Arrival Day Saturday : Check In from 15.00-19.00
18.30 Welcome Session / Meditation
19.30-20.00 Meet & Greet at the Restaurant, Wellcomedrink and Informations about our Center and the schedule
20.00 Dinner
Sun / So
8:15-9.00 guided Meditation
9.00-10.00 Breakfast
11.00-12.30 Yoga
Freetime
optional: Surfing
19.30 Dinner
Mo
8:15-9.00 guided Meditation
9.00-10.00 Breakfast
11.00-12.30 Yoga
Freetime
optional: Surfing
19.30 Dinner
Tue-DI
8:00-9:00 silent Meditation (Selfpractise)
9.00-10.00 Breakfast
11.00-12.30 Yoga
Freetime
optional Surfing
19.30 Dinner
Wednesday is our programm free day – time for a bigger excursion for example to the Maddalena Islands or a Hiking trip. Can be booked at the center.
Breakfast from 8.30-10.00
no Dinner at the center
Thursday / Donnerstag
8:00-9:00 silent Meditation (Selfpractise)
9.00-10.00 Breakfast
11.00-12.30 Yoga
Freetime
optional Surfing
19.30 Dinner
Friday / Freitag
8:00-9:00 silent Meditation (Selfpractise)
9.00-10.00 Breakfast
11.00-12.30 Yoga
Freetime
18.00-19.30 Yoga
20:00 Dinner
Departure Day Saturday
9:00-10:00 Breakfast
Check out until 10.00
Additional Programm, optional Workshops and excursions can be booked at the Center:
Bodywork Treatments / Massages
Workshops (Yoga on special topics like Faszia-Yoga, Meditation, Thaimassage, Dancing etc)
private Yoga / Meditation Sessions
Coachings, Readings with Elke
Hiking excursion
Boattrip to the Maddalena Archipel
Sardinian Cooking Workshop
Winetasting / Excursion to a near by Vineyard.
18 PM = Start on day of Arrival
10.00 AM = End on Departure day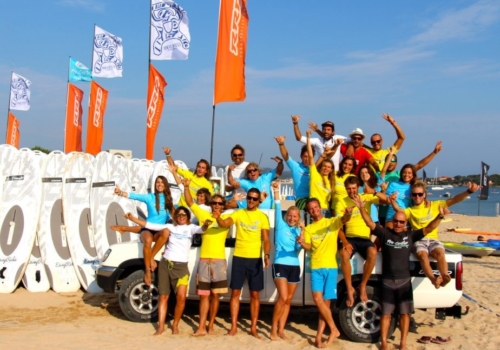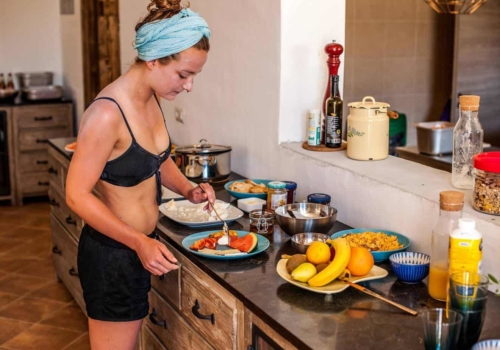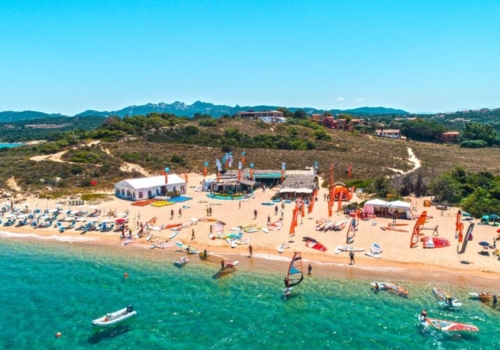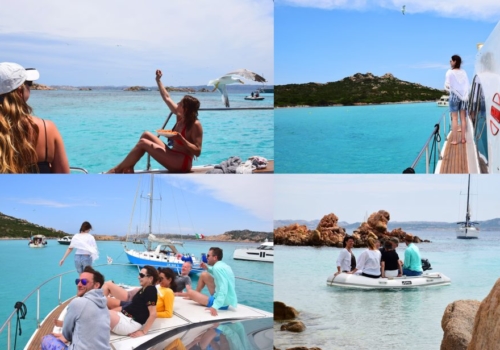 Choose your Package for Windsurfing!

Windsurf Packages inkl. Course A

3 Days Windsurf-Course – Level of choice
4 days board rental – full day
Free flatrate: SUP & Kayak use
only for Balaiana Retreat members: 320,-€
Windsurf Packages inkl. Course B
4 Days Windsurf-Course – Level of choice
4 days board rental – full day
Free flatrate: SUP & Kayak use
only for Balaiana Retreat members: 350,-€
DAS ERWARTET DICH || WHAT TO EXPECT
Beginners and advanced practitioner, every Level of yoga- and meditation experience is welcomed at our Yoga & Meditation Retreats.
Our experienced teachers give their best support to all participants to serve their individual needs and offer their help to find peace, tranquility and connection to the flow of life.
During your retreat week you can enjoy yoga and meditation classes, workshops on certain topics, excursions, you can book private sessions or a relaxing massage with our body workers.
On arrival there will be an information session to inform you about our center, to explain the Balaiana Area and Cost-Area with it´s beautiful beaches, the program schedule, additional workshops & events you could choose so you can plan your stay according to your needs- active holidays or just relax in the beautiful setting of the incredible nature that surrounds us.
Teaching Language is: english / german
The timetable of the program can be adjusted to the weather conditions and needs of the group
****************************************************************************************************
Das Yoga & Windsurf-Retreat ist sowohl für Anfänger als auch Fortgeschrittene geeignet, jedes Level an Yoga und Surferfahrung ist in diesem Retreat willkommen!
Unsere erfahrenen Lehrer geben ihre beste Unterstützung um den individuellen Bedürfnissen der Teilnehmer gerecht zu werden und werden dir helfen, inneren Frieden, Gelassenheit und Verbindung zum Fluss des Lebens zu finden.
Während deiner Retreatwoche kannst du Yoga-, Meditationsklassen, Surfkurse, SUP, Kajak und Exkursionen geniessen. Du kannst ebenso private Sessions mit deinem Lieblingslehrer oder eine entspannte Massage mit unseren Body-Workern buchen.
Am Ankunftstag findet ein Informationstreffen statt, in dem du alles Wissenswerte über unser Zentrum, die Balaiana- und Küstenregion mit ihren bezaubernden Stränden, das Seminar- und Workshopprogrammerfährst. So kannst du deinen Aufenthalt ganz nach deinen Bedürfnissen planen- egal ob es Aktivferien werden sollen oder du einfach in der herrlichen Natur entspannen möchtest, die uns umgibt.
Die Unterrichtssprache des Retreats ist: deutsch / englisch
Wir behalten uns vor, den Zeitplan des Retreats je nach Wetterbedingungen und Bedürfnissen der Gruppe anzupassen.
• 7 nights accommodation in single or double room as booked
• 7x breakfast
• 6x dinner (no dinner on Wednesday, the excursion day)
• fruits, teas, filtered water and coffee in the morning
• free water and tea for dinner
• Yoga & Meditation classes as described in the Program (some of the classes could be open to other non participants of the retreat)
• info-meeting on arrival day
• flights to/from Olbia or other airports in Sardinia
• rental car, which we highly recommend for your stay at Balaiana
• transfers to/from Balaiana Eco Retreat Centre
• Windsurfpackage A or B (has to be paid directly to our partner)
• massage and therapies, personal coachings and private sessions at the center
• additional workshops and events
• additional beverages which are not included in the meals
• dinner on wednesday
• excursions, day trips
Cancelations require written form. In case of cancelation we calculate a cancelation fee
according to our terms as following:
Cancelations up to the 31th day before arrival day:
30% of the total contracted rate
Cancelations up to 8th day before arrival:
50% of the total contracted rate
Cancelations up from the 7th day before arrival:
70% of the total contracted rate
Cancellation up from date of retreat start 100% of the contraced rate.
Bookings
Bookings are closed for this event.