Date/Time
Date(s) - 30/08/2019 - 09/09/2019
All Day
Location
BALAIANA | Eco Retreat Sardinia
Categories
LOVE LIFE | 10-Tages Retreat mit Solveig Pfefferkorn & Elke Bayer | 30.August-09. September 2019

möglich ist auch eine 5 tägige Version 30.8.-4.9. oder 4.9.-9.9. Preis hierfür auf Anfrage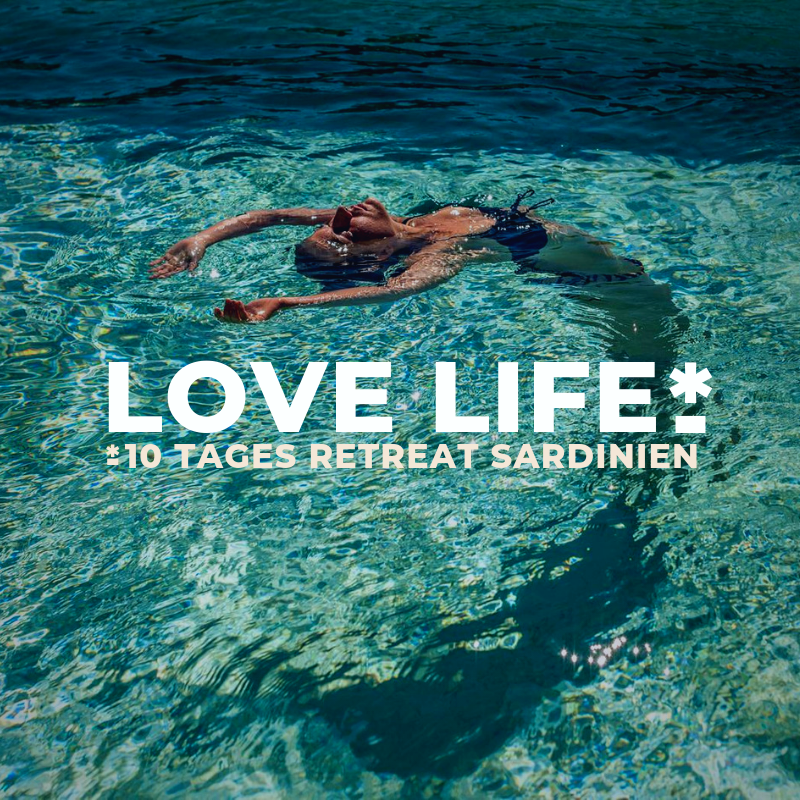 Es gibt Orte, denen eine besondere Magie innewohnt und in der die Seele wieder in Balance kommt.
Finde zurück zum Feuer deines Herzens, deiner Intuition, die tief in dir verwurzelt ist und geniesse die Süße des Lebens mit uns inmitten der unberührten Natur Sardiniens.
Mach dir jeden Tag zum Geschenk: Yoga, Meditation, Pranayama, La dolce Vita am türkisblauen Meer, wunderbaren Ausflügen, Cuisine für die Seele und Zeit mit netten Menschen.
Auf dieser Reise zu dir selbst begleiten dich Solveig & Elke mit einer ausgedehnten energiereichen Morgenpraxis, einer regenerativen Abendpraxis, in der wir aber auch ganz die Bedürfnisse der Gruppe einfliessen lassen- hier gibt es Zeit, tiefer in die Ausrichtung der Asanas einzugehen, für entspannendes Yoga, meditative Praktiken und ein wenig Yogaphilosophie.
An einigen Nachmittagen besteht die Möglichkeit für einen gemeinsame Unternehmungen oder Beachlife.
September ist, wie wir finden, die schönste Zeit auf Sardinien- das Meer ist schön warm aber es ist nicht mehr zu heiss um an den herrlichen Stränden viel Zeit zu verbringen.
Das liebevoll eingerichtete Balaiana mit paradiesischem Garten & Pool läd dich ein, die Seele vollkommen baumeln zu lassen. Umgeben von den schönsten Stränden Nordsardiniens und nahe des malerischen Dorfes Luogosanto mit vielen umliegenden spirituellen Kraftorten, liegt das naturverbundenen Eco Retreat gut erreichbar vom Flughafen Olbia.
Neben dem Seminarprogramm hast du die Gelegenheit, deine Entspannung mit wundervollen Massagen zu unterstützen.
Spüre die heilende Energie dieses mystischen Ortes und schöpfe wieder neue Kraft! 10 Tage- nur für Dich!
ABLAUF FÜR DEIN RETREAT
Änderungen je nach Wetter & Gruppenbedingungen möglich!
Beispieltag für unser Retreat Sa, So, Mo, Fr, Sa, Mo
7.30 Tee & Fruits
8.00 / 8.30 Meditation, Pranayama , Morning Yoga,
11.00 Brunch
Freetime
17.30 Evening Yoga (Pranayama, Restaurative, Yin, Meditation)
19.30 Dinner
Abweichungen:
Fr Anreise bis
18.00 und Welcomesession in der Yogashala
19.30 Meet & Greet im Restaurant / Infos über das Retreat & Zentrum
Di Nachmittag frei & Dinner am Stand in unserer Lieblingsbar Calaveras in Porto Pollo (kein Yoga am Nachmittag)
Mittwoch ist unser Ausflugstag mit Möglichkeit das Maddalena Archipel per Boot zu erkunden (optional mit zusätzlichen Kosten verbunden)
Frühstück um 8.30 danach Tag zur feien Verfügung.
Donnerstag Frühstück um 9.00, danach Besuch des Marktes in San Pantaleo
Nachmittags Yoga 16.30-19.00
Dinner 19.30
Sonntag nachmittags Canoe Ausflug (optional)- kein Yoga
Abreisetag Montag 9.00 Frühstück
Check Out bis 10.00
Unterrichtssprache ist deutsch
Minimale Teilnehmerzahl: 8, Maximal: 22
Wir helfen dir dabei einen Mitfahrer / Fahrer für deinen Mietwagen zu finden!
Ein Mietwagen ist dringend empfohlen!
Check In am Ankunftstag: 15.00
Check Out am Abreisetag: 10.00
Gerne kannst du am Anreiset ab 12.00 eintreffen und die Zeit am Pool verbringen bis dein Zimmer fertig ist.
ELKE SVITEK & SOLVEIG PFEFFERKORN
Elke is Founder of Balaiana Eco Retreats Sardinia and a certified Anusara® Yoga Teacher. She is also a certified Spiritual & Mental Coach. At Balaiana she teaches Retreats, Teacher Trainings, Intensive Seminars for personal Development. You could also book personal Sessions with her:Private Yoga, Coaching, Readings and Bodywork.
After having almost 10 years a Yogastudio in Düsseldorf (Shivasloft) she made her dream come true: A place in the mystical of nature of Sardinia, where people can reconnect to their hearts. Elke invites you to discover your unique way to happiness and freedom.
Solveig unterrichtet Yoga seit 11 Jahren mit großer Hingabe.
Sie hat in verschiedenen Stilen und Traditionen geübt: Ashtanga, Vinaysa, Anusara, Iyengar und Shadow Yoga.
Iyengar Yoga, dessen Präzision Solveig sehr schätzt hat ihren Unterrichtstil maßgeblich beeinflusst. So legt sie ihren Focus heute auf Technik und Ausrichtung und ist fasziniert davon, wie komplex die vermeintlich einfachen Haltungen sind. Genau das ist es auch, was sie an der Asanapraxis so spannend findet.
Solveigs Unterricht ist intuitiv, herzlich und humorvoll, dabei immer kraftvoll und fordernd.
• 10 Nächte Unterkunft in Single or Doppelzimmer wie gebucht.
• Seminarprogramm
• breath walk
• leckere vegetarische Verpflegung, vorwiegend biologisch von lokalen Bauern
• Tee, Wasser zu den Mahlzeiten, Filterkaffee am morgen
• 1x Dinner an der Strandbar
• Kirtan
• Welcome Drink
• Flüge nach / von Olbia oder anderen Flughäfen
• Mietwagen (dringend empfohlen für den Aufenthalt bei uns)
• Transfer nach / vom Balaiana Eco Retreat Centre< • Massagen, Bodywork, persönlichel Coachings / Readings mit Elke und Privatsessions • zusätzliche Getränke, die nicht zu den Mahlzeiten inclusive sind • optional Ausflüge / Wanderausflüge [/vc_column_text][/vc_column][/vc_row][vc_row][vc_column][vc_column_text] [/vc_column_text][/vc_column][/vc_row][vc_row][vc_column][vc_column_text][/vc_column_text][/vc_column][/vc_row][vc_row][vc_column][vc_column_text] [/vc_column_text][/vc_column][/vc_row]
Bookings