OFFENE YOGA KLASSEN IM BALAIANA
START IM MÄRZ 2018
Offen für Jedermann: Gäste und Nicht-Gäste bieten wir an:
• Sonntag, 11.00 Uhr: ANUSARA® YOGA – all level
• Donnerstag, 16.00 Uhr: EASY YOGA – Restore & Relax
• Freitag, 11.00 Uhr: ANUSARA® YOGA – medium level.
Bitte prüfe immer den aktuellen Kalender!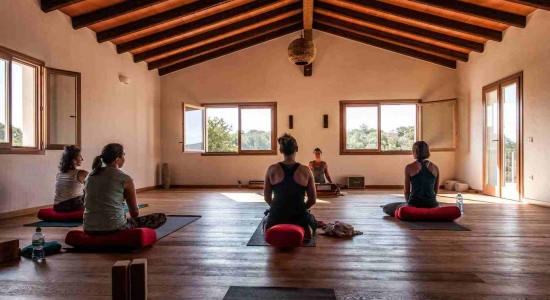 DAS LEHRER-TEAM
Elke Svitek

Certified Anusara® Teacher, Mental Coach, Inhaberin 'Adventurous Heart Yoga', Mitgründerin des Balaiana Eco Retreat Zentrums

Elke is Founder of Balaiana Eco Retreats Sardinia and a certified Anusara® Yoga Teacher. She is also a certified Spiritual & Mental Coach. At Balaiana she teaches Retreats, Teacher Trainings, Intensive Seminars for personal Development. You could also book personal Sessions with her:Private Yoga, Coaching, Readings and Bodywork. After having almost 10 years a Yogastudio in Düsseldorf (Shivasloft) she made her dream come true: A place in the mystical of nature of Sardinia, where people can reconnect to their hearts. Elke invites you to discover your unique way to happiness and freedom.