UNSERE MISION
Im Sommer 2017 haben wir diesen einzigartigen Ort in der kraftvollen Natur Sardiniens eröffnet und uns damit einen Traum verwirklicht!
Unseren Idealen und Werten folgend, möchten wir Euch, unseren Gästen, eine Oase der Besinnung, Erholung und Stärkung bieten. Wir leben einen respektvollen und wertschätzenden Umgang und glauben daran, dass die Schönheit der Natur und die körperliche und spirituelle Praxis ein Weg ist, der jedem Einzelnen und uns Alle gemeinsam zu mehr Erfüllung und Bewusstheit in unserem Alltag führt und so zu mehr seelischer und körperlicher Gesundheit und Zufriedenheit.
Gerne möchten wir diesen Weg mit Dir teilen!
Die Balaiana Familie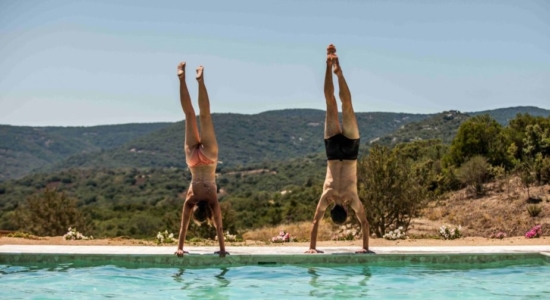 MEET THE TEAM
Elke Svitek

Certified Anusara® Teacher, Mental Coach, Inhaberin 'Adventurous Heart Yoga', Mitgründerin des Balaiana Eco Retreat Zentrums

Elke is Founder of Balaiana Eco Retreats Sardinia and a certified Anusara® Yoga Teacher. She is also a certified Spiritual & Mental Coach. At Balaiana she teaches Retreats, Teacher Trainings, Intensive Seminars for personal Development. You could also book personal Sessions with her:Private Yoga, Coaching, Readings and Bodywork. After having almost 10 years a Yogastudio in Düsseldorf (Shivasloft) she made her dream come true: A place in the mystical of nature of Sardinia, where people can reconnect to their hearts. Elke invites you to discover your unique way to happiness and freedom.

Flora

Zen Meister

Sie ist der lebende Beweis, das Glück von innen kommt.

Valentina

Küche

Together with Pierre Valentina from Rome is the heart of the kitchen! Her love for the italian kitchen follows the Nature's rules with creative recipes and a friendly approach. Her cuisine preserves and exalts foods' aromas and flavours merged also with regional gourmet recipes.

Pierre

Passionierter Koch

Pierre, half sardinian,half german has always new ideas for delicious dishes. His fusion style cooking makes your belly smile :-) When he is not visioning the menu of the day, you might see him also dancing in the kitchen!
Martin Svitek
Founding Partner
Not participating in Balaiana Eco Retreat anymore.
Founded together with Elke Svitek Balaiana in 2017. Now living in Munich.